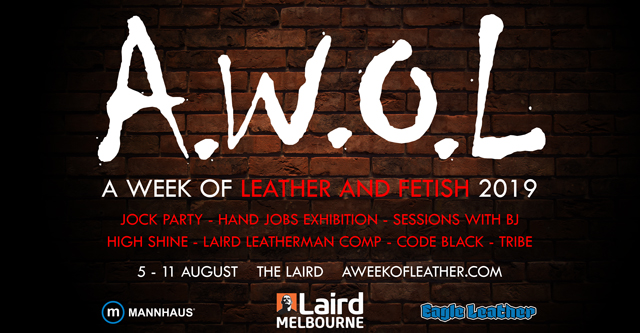 The Laird invites you to AWOL 2019 – A Week of Leather and Fetish, undoubtedly Australia's premier series of geared-up and stripped-down events for same-sex attracted CIS and Trans males.
Between 5th and 11th August, AWOL 2019 will provide an array of events which appeal to the leather and fetish enthusiast, as well as those on the curious side.
It's a week jam-packed with events, featuring the "Big Three" – AWOL Jock Party, Laird Leatherman Competition and Code Black – and rounded out with Sessions with BJ, High Shine, TRIBE and the return of the Hand Jobs Art Exhibition…
Of course this wouldn't all be possible if it wasn't for our generous sponsors and supporters (see below) plus the Laird crew including staff, volunteers and of course the Laird Leathermen themeselves...
All events are male only - VCAT H349/2018
The Laird, Melbourne, is Australia's longest running gay-owned and operated bar and accommodation.
Formerly known as "Melbourne's only bear and leather bar", The Laird has progressed over the years to become a haven, meeting place and party space for same-sex attracted CIS and trans males.