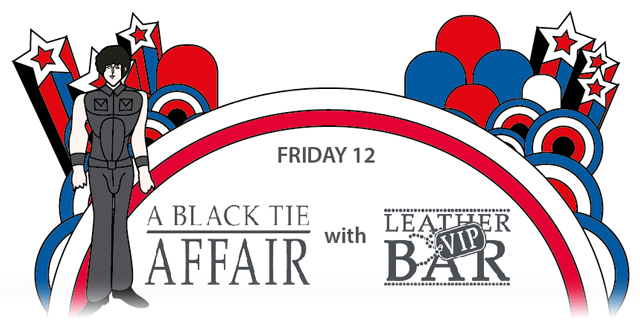 Right this way gentlemen, and let us tell you a tale of The Laird on the Friday of AWOL 2022...
It's a tale of two events, both alike in style but oh, so different in approach.
You are cordially invited to 'A Black Tie Affair', free for men who dare seek the admiration of leather, whether curious or established.
We've rolled out the black carpet, ready for you to head through to the Back Bar and Beer Garden. Refresh yourself with our take on the classic old-fashioned cocktail, cut the cap of your cigar and settle in for a night of sophisticated debauchery, with sound suite by Stereogamous
Dress up or dress down but be sure to match it with a tie: be it bow or bolo, ascot of cravat.
It need not be leather, but then again, why not? It is AWOL after all.

For a discerning few, the 'VIP Leather Bar' awaits. Be warned, access is strictly limited and comes at a price. So, the question remains: Are you BLUF enough?  
Limited to 50 patrons and a strict leather dress code, $50 gets you one-night only access to the revamped Nuggets Bar, where a true feast for the senses awaits.
Nourish yourself with a morsel from our human canape table as you take in the sights of this exclusive leather cruising zone. When it's time to relieve yourself, our little piggies will be waiting in the yellow splash zone, eager for your liquid adoration. 
Tickets for the VIP Leather Bar are strictly limited; dress code fully enforced at the door.
100 points or over of leather needed for VIP Leather Bar entry...
35 points – Pants, Chaps, Kilt, Shirt, Jacket, Shorts, Top, Jeans, Zip Front Vest
30 points – Boots, Apron
20 points - Vest, Muir Cap, Harness
15 points – Garrison, Tie
10 points – Jock, Suspenders, Same Browne, Cap
5 points – Wristbands, Hood, Collar, Mask, Gloves, Armbands, Sneakers

Two unique events, one kink-filled venue
A Black Tie Affair : free entry,  8pm till late - gear or casual dress code. Tie highly recommended
VIP Leather Bar : limited tickets + dress code, 9pm – 12pm

Friday 12 August, bar open 8pm
No frontal nudity
No thongs, sandals, crocs, etc
No ground based pup play
No photography unless authorised by management
Consent is Vital - no means no
Men only VCAT H14/2022