AWOL 2021 - CANCELLED / LAIRD LEATHERMAN 2021 TO GO AHEAD
Due to the restrictions in place following Victoria's ongoing lock-down, there was little choice left but to cancel A Week of Leather and Fetish 2021. However we could not bring ourselves to not hold the cornerstone event of AWOL - the Laird Leatherman Competition. This is currently scheduled for Saturday 13th November, pending we are on track to opening following government guidelines.
Cheers, Brett, Mark and Dean
The Laird / DEANation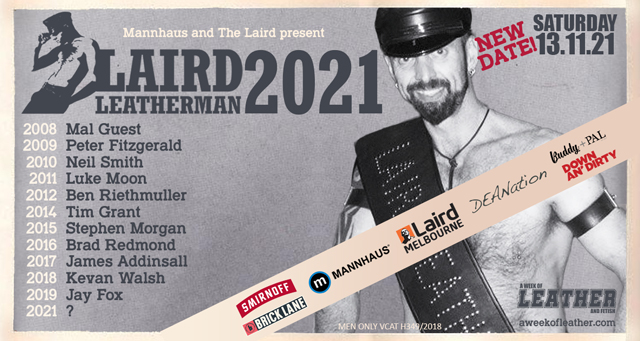 The Laird, Melbourne, is Australia's longest running gay-owned and operated bar and accommodation.
Formerly known as "Melbourne's only bear and leather bar", The Laird has progressed over the years to become a haven, meeting place and party space for same-sex attracted CIS and trans males.