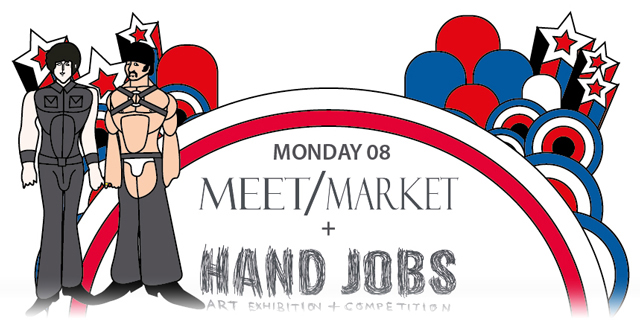 Roll up, roll up, for Meet Market!
Leathermen and leather-curious alike, consider this your invitation to A Week of Leather and Fetish 2022 at The Laird.
We're kicking things off this year with a laid-back social start, and with the Jock Party moving to hump day, it's the perfect opportunity to meet up, grab a drink and plan the week ahead.
All You Need Is Leather, so the Gear Market will be stocked with donated quality used leather goods to peruse, and and plenty of fellas for you to cruise.
For those of you still in need of some touching up, the Laird Bootblacks will be on hand (and knee) to polish you off in the Back Bar, and Laird Leatherman Craig will be in the Leather Care Zone if you've something in need a little love and attention.
Nugget's Bar-ber will buzzing, with Jay on hand to have you looking as fresh while you check out the artistry on display a ... did somebody say HAND JOBS
Yep, it's back, the art exhibition that confuses people who don't read things properly.
Entries will be displayed through AWOL and are available for purchase with proceeds going to Switchboard.
Get down to The Laird before 8PM for your chance at sensational door prizes plus drink specials thanks to Stomping Ground and Smirnoff.
So, what are you waiting for?
P.S. Did you hear the one about the three little pigs? Rumour is one of them got to go "wee, wee, wee" all thanks to a raffle...



Monday 8 August, bar open 6pm
No frontal nudity
No thongs, sandals, crocs, etc
No ground based pup play
No photography unless authorised by management
Consent is Vital - no means no
Men only VCAT H14/2022